WRBBOF Board Member Affiliate Organizations
Board Member Organizations
The web site of the World Traditional Martial Arts Society, founded by Hanshi Leif Hermansson-10th Dan of Sweden and WRBBOF Board Member.
Web site of the INTERNATIONAL-SHORIN-RYU-SEITOKAN-KARATE-KOBUDO-ASSOCIATION, founded by WRBBOF Board member, Hanshi Santiago Sacaba 10th-Dan.
Web site of WRBBOF Board Member Hanshi Sid Rayford, owner of Rayford Shorin-Ryu Karate & Kobudo and President of the American Teachers Association of the Martial Arts (ATAMA).
Facebook page of the WRBBOF Director, Dwight Holley-Hanshi and founder of Karate of Japan Federation International, based in Cincinnati, Ohio.
Web site of WRBBOF Board Member Rony Kluger, Hanshi-10th Dan and founder of Karate Do international, a worldwide association that is based in Israel.
Website of the Internationl Karate Masters Association, founded by Katsumi Okubo, Hanshi-10th Dan of Japan. The IKMA is Shihan Kai or an organization that recognizes and registers Shihans around the world.
Facebook group page for WRBBOF Board Member Lee Wedlake's Karate, based in San Antonio Texas.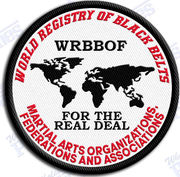 Facebook page of WRBBOF Board Member Patrick Rault of France. Rault Sensei is a member of the Kyudokan based in Okinawa.
Web site of WRBBOF Board Member Cezar Borkowski of Canada. Hanshi Borkowski's organization has dojos in several locations thoughout Canada and he has been teaching professionally since 1972.