About the WRBBOF
What We Do
The WRBBOF is an independent registry for all legitimate Black Belts, Martial Arts Organization, Federations and Associations. We are independent of any group and look at all the information without any bias or outside influence. The WRBBOF was formed in 2002 as a place that the people that have true credentials may come and be recognized for their devotion and study of the martial arts.
Obtaining the level of black belt is a long journey, and it is not to be cheapened by many who have not earned the right to wear it, and say that they are black belts.
The WRBBOF is a registry that takes every step to ensure that the applicants are true and have earned their rank. Once the WRBBOF finishes its research, we will add the applicant to the list of honorable students of the martial arts.
The WRBBOF will keep the records on file and serve as an archive for your records. If you lose records we will be able to attest to and confirm your background. If you want us to house those records, send to us electronic copies of your certificates and we will archive them for you.
Any style martial artist or group can be a member as long as they are a legitimate black belt.
The WRBBOF is growing daily, and we work hard to get up the names of those individuals who have become members. If you do not see your name on the list yet, please be patient with us as we have many applications to research. Thank you.
Membership is free, but if you want a membership certificate, you must pay for the cost of printing and mailing. The fees are $20 if shipped within the U.S. and $30 if shipped outside of the U.S.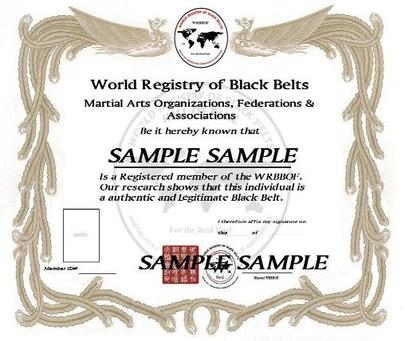 Disclaimer
Although we try to be very diligent in the research of the applicants to ensure they are the real deal we can only go by the given information and facts provided by the research and information available.
We can not confirm or deny those who have not applied.
Respectfully,
WRBBOF Staff
Contact the WRBBOF